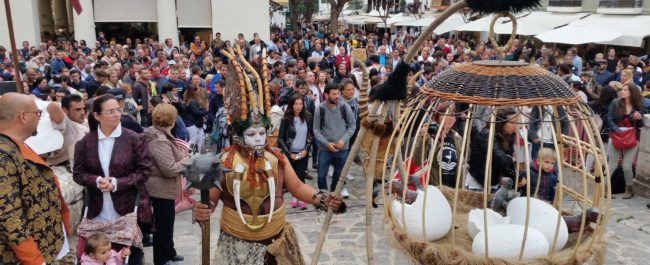 Ibiza Medieval Market: a unique opportunity to visit the White Island
Minstrels, merchants, troubadours and street artists will stroll through the streets of the historic centre of Ibiza (Dalt Vila) between May 9th and 12th. The capital of the White Island is celebrating the 20th edition of its popular Medieval Market: a unique opportunity to visit Ibiza and discover the Island's fascinating history.
To commemorate the declaration of four natural and cultural elements of the island as UNESCO Heritage of Humanity (which took place in December 1999), Ibiza celebrates its Medieval Market in style, embarking on a journey back in time to showcase the incredible medieval legacy of the White Island.
During the three days of the Ibiza Medieval Market, the city welcomes thousands of tourists, recreating the best atmosphere to "kick off" the season. It is, without a doubt, one of the best dates to visit Ibiza. Those who stay at the Torre del Mar hotel during the Ibiza Medieval Market have the advantage of being able to travel to the centre of Ibiza on board of one of the boats (also known as taxi boats) that depart from the pier located just in front of the hotel. It is undoubtedly one of the most comfortable ways of travelling, especially at this time of year when traffic in the city increases considerably.
Programme of activities at the Ibiza Medieval Market
For three days, the streets of Dalt Vila are adorned with cloth, shields and flags, reminiscent of the Eivissa of past centuries. Around 200 craft stalls of all kinds are dotted around the streets, creating an authentic medieval setting in which the architecture of the narrow streets in the city centre helps to perfectly recreate the era.
Over the weekend, numerous shows and workshops for all ages will take place in the streets of Dalt Vila, including medieval theatre, falconry, archery, Arab dances… among others. The event will also host various choral music concerts in the churches of Dalt Vila, as well as folklore exhibitions and other cultural shows.
Would you like to enjoy this unique opportunity to discover the island of Ibiza and its fascinating medieval past? Book your stay at the Torre del Mar hotel now via the website and take advantage of the best rates, as well as many other benefits, such as the chance to enjoy our spa 'Sal Rossa' as many times as you want, completely free!